Cloud Servers
If you are familiar with VPS or VDS hosting services then Cloud Servers services is what you are looking for, since that Cloud Servers are the evolution of servers virtualization technology which is characterized by its different infrastructure from its predecessor to provide the inherent flexibility of cloud server scaling and server highest availability.
Cloud Servers are the best choice for medium business websites, web developers.
Find Your Plan
Servers Locations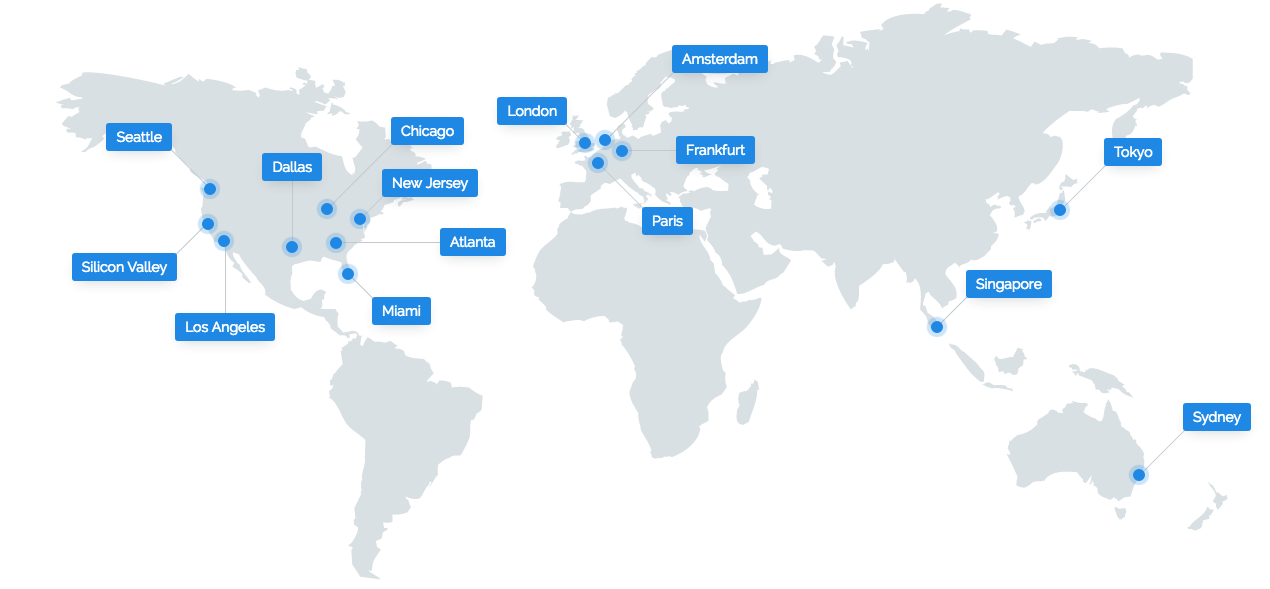 99% UPTIME
Our Cloud servers services are guaranteed to have over 99% uptime to keep the high availability and performance on your hosting services.
MULTIPLE LOCATIONS
Build your server at any location you like in the USA like San Francisco, New York, or in many locations in Europe like London, Frankfurt, Amsterdam and Singapore.
KVM VIRTUALIZATION
KVM (Kernel-based Virtual Machine) is the leading virtualization solution that enables organizations to be agile by providing robust flexibility and scalability that fit their specific business demands.
High Speed
Enjoy the high speed of your services as cloud servers come with 1Gb/sec public network interface and bandwidth start with 1TB per month that increase incrementally.
Powerful Hardware
For stable performance, our cloud servers are built on powerful Hex Core machines with dedicated ECC Ram and RAID SSD storage.
Faster Performance
Because of the faster disk i/o performance of SSD drives we guarantee using them to ensure high performance of your services and website.
Our Cloud Servers Plans
swipe please
You can get 50% discount on cloud server management service
| Servers | Memory | Hard Disk | CPU Core | Bandwidth Transfer | Total Recurring | Order |
| --- | --- | --- | --- | --- | --- | --- |
| Cloud SSD - Alpha | 512 MB | 20GB SSD Disk | 1 Core | 1 TB Transfer | $15.00 | Order Now |
| Cloud SSD - Beta | 1 GB | 30GB SSD Disk | 1 Core | 2 TB Transfer | $35.00 | Order Now |
| Cloud SSD - Gamma | 2 GB | 40GB SSD Disk | 2 Core | 3 TB Transfer | $45.00 | Order Now |
| Cloud SSD - Delta | 4 GB | 60GB SSD Disk | 2 Core | 4 TB Transfer | $75.00 | Order Now |
| Cloud SSD - Epsilon | 8 GB | 80GB SSD Disk | 4 Core | 5 TB Transfer | $100.00 | Order Now |
| Cloud SSD - Zeta | 16 GB | 160GB SSD Disk | 8 Core | 6 TB Transfer | $200.00 | Order Now |
| Cloud SSD - Eta | 32GB | 320GB SSD Disk | 12 Core | 7 TB Transfer | $387.00 | Order Now |
| Cloud SSD - Theta | 48GB | 480GB SSD Disk | 16 Core | 8 TB Transfer | $600.00 | Order Now |
| Cloud SSD - Lota | 64GB | 640GB SSD Disk | 20 Core | 9 TB Transfer | $800.00 | Order Now |
Frequently AskQuestions
Question Number One
Question Number One
Question Number One
Question Number One
Question Number One
Question Number One
Question Number One
Question Number One